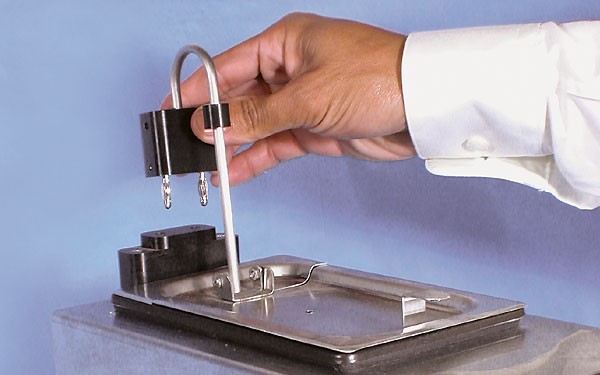 OptiSafe® Digital Super Tinter
OptiSafe Digital Super Tinter is a single quart (946ml) tank heating system combining accurate digital temperature control, variable stirring action, split lid, and nonstick tank (Vat) for heating lens tinting solutions. The detachable temperature probe (Fig.1) is immersed into the tint solution to reflect solution temperature, not the temperature of the Heat Transfer Fluid (HTF) as in conventional heating systems. The unit requires only 15 fl. oz. (443ml) of HTF. The HTF is a water soluble, environmentally safe, non-hazardous, biodegradable oil blend. Multiple units can be aligned side by side to create a tinting system that is perfect for your needs.
Faster tinting, with better color shade consistency.

Automatic variable speed stirrer.

Accurate digital temperature control, with detachable temperature probe.

Nonstick tank for easy cleaning.

No boil-over. Lid position will not affect the temperature.

Stainless steel construction.

Unique energy saving design.

Made in the USA!
Packaging & Shipping
The Super Tinter, item #E342 is packaged in a 12 x 16 x 11in. (30.48 x 40.64 x 27.94cm) craft box and comes with a 15 fl.oz. (444ml) bottle of OptiSafe Heat Transfer Fluid. Total shipping weight: 16 lbs. (40.64kg).
Looking for something not listed here? Call 800.749.8427 We can help!